Theme groups
Theme groups have been established within sustainability, digitization, biotechnology, VR/AR and commercialisation. The theme groups are led by companies in the Cluster. 
Published 9. februar 2021
Modified 15. februar 2021
Written by linda-theres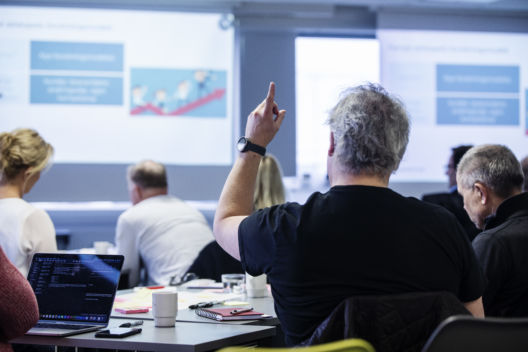 The Cluster is unique in Norway and represents the entire value chain for sustainable food production. Members' core competencies are in the following technology areas:
Genetics and biotechnology (related to animal and plant breeding) 
Sustainable feed (ingredients, such as proteins) 
Biorefining (utilisation of biological residual resources)    
Our theme groups are linked to the focus areas of cluster collaboration:
International commercialization, sustainability, innovation, and new enabling technologies.
The cooperation in the groups will contribute to increased value creation and strengthen competitiveness for member companies.

All employees of NCE Heidner Biocluster's member companies who are particularly concerned with or professionally engaged in the topic of the group can participate.

Sustainability is a unique pillar and competitive advantage for our members. Through cooperation in the theme group sustainability, businesses will increasingly ensure value creation on a three-part bottom line: social, environmental, and economical. This involves work both to reduce the company's footprint, but also to harness the innovation potential that lies in increasing global demand for more sustainable solutions for food production and resource utilisation.

Digitization involves a transformation of our entire society. For our member businesses, it is very important to monitor digital developments and take advantage of new opportunities for innovation and value creation. Based on a recognition that digitization is at least as much about the culture and ability to change the company as the technology itself, the group's cooperation revolves around measures to solve identified challenges and bottlenecks, strategy work and the development of concrete innovation projects.

Biotechnology: NCE Heidner Biocluster forms one of the world's leading genetic engineering expertise environments related to breeding and reproduction. In the theme group biotechnology, the focus is on further development of this competitive advantage and on contributing to increased innovation based on competence development and exploration of new methodologies, new applications, or new links. Topics will include genomic selection, CRISPR, cell biology, storage of breeding data, securing breeding progress and new ways of applying genetic data.
Virtual reality (VR) and augmented reality (AR) technologies open a whole new way to showcase products and services. The manufacturing and size perspective becomes lifelike, giving a stronger impression than regular 2D presentation. In research, the possibilities are also endless, ranging from data collection and analysis to presentation of results. The theme group VR/AR will contribute to increased knowledge and idea creation around the technology and give rise to innovation projects for companies to provide a competitive advantage.
Meld deg på vårt nyhetsbrev
Hold deg oppdatert på aktiviteter i klynga.