Heidner Biocluster and BioVale signs MoU
The Yorkshire-based bioeconomy innovation cluster, BioVale and its Norwegian counterpart, the Heidner biocluster, have signed a memorandum of understanding (MoU).
Publisert 15. mai 2018
Revidert 27. oktober 2020
Skrevet av linn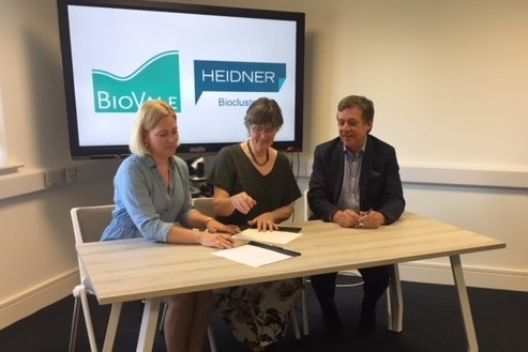 The two organisations are to work together to support world-class research and innovation, boost the global bioeconomy, and open up new business and research opportunities for UK and Norwegian businesses.
The agreement was signed at BioVale's offices in Dunnington, York by (left to right) Heidner Biocluster cluster manager, Kristiane Haug Berg, BioVale CEO Maggie Smallwood and Hedmark Kunnskapspark CEO, Frank Larsen on Tuesday 15th May 2018.  This agreement is a significant step that will facilitate future cluster to cluster interactions such as research and development projects and business to business and business to academia introductions.
Meld deg på vårt nyhetsbrev
Hold deg oppdatert på aktiviteter i klynga.