The Government's bioeconomy policy strenghtens the effort to establish the bioeconomy centre BioSmia
Today, the government presented its national bioeconomy policy, and we are happy to see that Arena Heidner is mentioned as a world leading hub when it comes to animal and plant breeding and fertility.
Publisert 29. november 2016
Revidert 27. oktober 2020
Skrevet av linn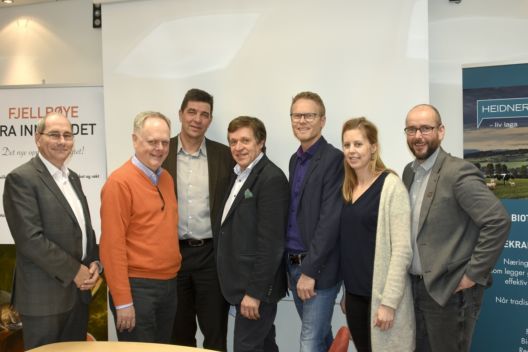 They have also focused on the utilization of biorenewable residues and development of plus products, examplified by the Heidner companies Norilia/Nortura and TINE, and Hedmark University of Applied Science is mentioned as an important national knowledge environment within the bioeconomy. These are all important aspects in the further development of the Heidner Cluster.
Hedmark Kunnskapspark will implement the national strategy in the establishment of BioSmia Bioeconomy Centre – Which will be officially opened in week 7 in 2017.
Read more (in norwegian)
Presentation of the Government's bioeconomy policy: From the left: Erling Behrens (group leader Hamar FRP), Knut Fangberget (Varaordfører Hamar Høyre), Gunnar Gundersen (stortingsrepresentant Hamar Høyre), Frank Larsen (Adm. Dir. Hedmark Kunnskapspark), Dag Arnesen (Kommunikasjonssjef Hedmark Kunnskapspark), Linn Dybdahl (prosjektleder Heidner/Hedmark Kunnskapspark), Anders Øfsti (Klyngeleder Heidner/Hedmark Kunnskapspark)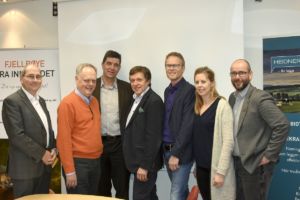 Meld deg på vårt nyhetsbrev
Hold deg oppdatert på aktiviteter i klynga.